Renown Health Products
Oatmeal Revised – Still a Premium Source of Fiber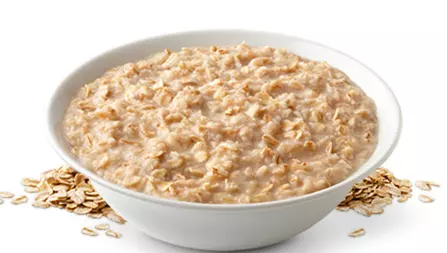 Oatmeal is one of those love/hate breakfast foods. The warm, full stomach that some people enjoy looks like a bowl of slimy glop to others.
I understand. Regular, boiled-in-the-pan oatmeal really is a gray, gelatinous pile of glop with lumps in it. If you're fine with that and content with the usual brown sugar, nuts, and banana trimmings, bless you. You are doing yourself a lot of good. You are a saint.
You're eating smart, too. Women should consume 25 grams of fiber per day, men 38 grams. One cup of oatmeal for breakfast will give you 8 grams of fiber. An average "bowl" of oatmeal is bigger than that for most people, however. It should bring you 12-16 grams of fiber.
The usual trimmings help. A medium banana adds another 3 grams. Or a half cup of blueberries is worth a little less than 2 grams of fiber. A few walnuts would add another gram.
If you prefer to go in the fruit and nuts direction, though, consider dates. A half cup is worth almost 6 grams of fiber.
Brown sugar provides no fiber, nor does milk, but they complete the traditional breakfast oatmeal offering. Which works fine for people who like oatmeal.
Now for the rest of us. There are other ways to eat oats, and you might succeed in taking a more savory approach. I don't run well when I start my day with sweets, so I found a way to make that work for me. While I never liked oatmeal, grits with salt, pepper, and butter are in my wheelhouse. That seemed like a possibility worth trying for oats—sans butter. Success! Good quality oatmeal, cooked thick, and served with salt and pepper tastes just fine. It's not glop. Add a scoop of fat-free cottage cheese on the side, and you have a protein bomb, too.
Other ideas I've found palatable for an oatmeal avoider… You can also stir in a large handful of spinach leaves toward the end of cooking. Siracha works well to liven oats if you can stand a hot, hot breakfast. This concoction goes well with avocado slices on top. Some people tell me that crumbled bacon and a soft poached egg are delicious, but this is supposed to be a health blog, so we'll just pretend that bacon never happens, OK?
Another interesting way to add oatmeal to your daily regime is to make a batch and pour it into a pie pan or baking dish to set, let it chill until firm. Now it can be sliced and sautéed in very light oil. Sprinkle with any flavorings you like—chili works—or you can top it with yogurt, nuts, whatever hits your imagination.
I hope one of those ideas works for you. And if not, there's always quinoa.