Renown Health Products
Eating Healthy with Farm-Raised Fish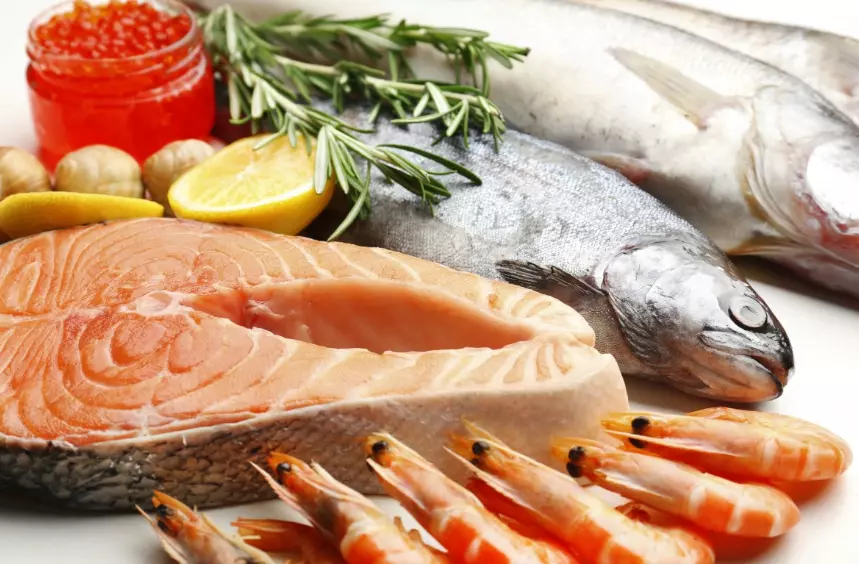 Unless you're vegan, you should eat fish twice a week for good health.
It's what the American Heart Association recommends. Ditto researchers at the NIH/National Institute for Arthritis. The US Department of Agriculture agrees. So do thousands of doctors and dieticians.
This is one of the rare bits of diet advice that is almost universally accepted. The reason is omega-3 fatty acids. They abound in cold-water fish like tuna, cod, mackerel, mahi-mahi, salmon, pollack, and anchovies.
Studies have shown that regularly eating these kinds of fish can lower heart disease and stroke risk because of the omega-3 content. The habit may also improve arthritis, supply critical growth hormones to developing children, and ward off cognitive declines.
But if the benefit of eating cold-water fish is ingesting plentiful omega-3 fatty acids, so is the problem.
Here's how: Numerous foods contain omega-6 and omega-3 fatty acids. Both are polyunsaturated fatty acids, or PUFAs. Omega-6's are more concentrated in grains, seeds, nuts, beef, and vegetables like avocados and soybeans, including tofu. Most cooking oils are high in it—one exception being olive oil, which is monounsaturated and full of omega-9's. Only a few oils are rich in omega-3. These include canola, walnut, and fish oils like that wonderful-tasting (not!) cod liver oil.
The issue is balance. The ideal diet for humans is a ratio somewhere between 1:1 or 4:1 of omega-6 to omega-3.
Our caveman forefathers were probably right at the 1:1 ratio. Some primitive societies get closer to the 4:1 range.
But today's ratio is about 20:1 for most developed countries. That's badly out of balance and invites numerous health problems. It is not simply a matter of too little omega-3; it's also a case of too much omega-6. The two PUFAs have opposing effects in the body.
For instance, omega-3 is anti-inflammatory. Omega-6 is pro-inflammatory. Omega-3 helps control weight. Omega-6 helps to gain it.
Gaining weight was an important biological edge in cave times where getting food was chancy from day to day. It's not a good thing for us, where grocery stores, food trucks, and restaurants beckon us with constant temptation to eat and eat again. For most of us, gaining weight is the easiest thing in the world.
Eating more fish and less beef, lamb, and pork is a good way to bring your diet back into balance. Unfortunately, if you are choosing farm-raised fish, you may not be getting the omega-3 content you thought you were.
That's because many fish farming operations feed their fish on grain products. And those fish will grow up to be high in omega 3 just like the grains that make up their diet, and low in omega 6.
The easiest way to make sure the fish you eat are as healthy as you hoped is to opt for wild-caught fish when you can. In the wild, cold water fish feed on other fish and algae. But you don't have to make every serving of fish wild caught. There are responsible farming operations.
Farm-raised fish have become an environmental necessity, and it can be done right. It's not all bad. Catching some species in the wild even means a lot of fuel burned to get to the fishing grounds and back for small hauls. In other causes, overfishing has meant that farm raising can be good for the species' survival. In Norway, extensive cod farming has decreased the waste in this fish which loses some of its delicate appeal if frozen.
Good farming operations are careful to avoid using any pesticide-treated food stock, antibiotics, or unnatural foods like grains. It can be hard to know where supermarket fish originates, and how the owners work, however.
If you shop at an independent fish market, your purveyor can probably guide you right. Strike up a relationship, and try to shop when it's not during peak hours. Friday afternoon is not the time to tie up the fishmonger for a long, philosophical chat. Nor will he want to guide you away from any choice when there's a whole line of other customers standing around to hear every word.
Talking to your "fish guy" is not an option for everyone, alas. So if you are on your own, here are some general rules.
Sockeye salmon are never farmed, so you can buy knowing they will be wild caught.
Farmed fish that are usually responsibly raised, meaning no pesticide or antibiotics, no mercury concentrations, and proper sanitation and environmental impact include:
· Barramundi farmed in the US and Australia
· Bass farmed in the US
· Catfish from the US
· Char (Atlantic)
· Farmed mussels--worldwide
· Farmed oysters--worldwide
· Farmed Pacific rainbow trout
· Farmed sturgeon from the US and Canada
· Farmed tilapia from Canada, Ecuador, and the US