Renown Health Products
Constipated? Try Eating a Mango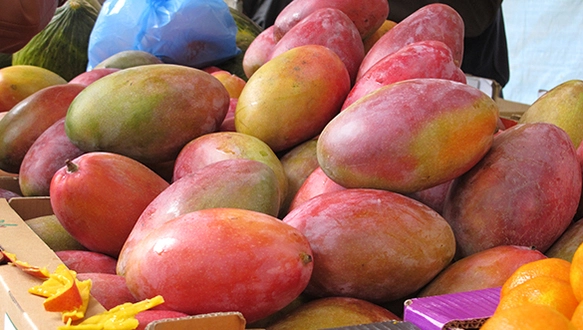 Since ancient times mango has stood out as a beneficial food for health since it is a source of vitamins A, B and C, and minerals such as potassium, calcium, and magnesium. Mango is an excellent complement to strengthen immune functions, as its vitamin C content can cover up to 41% of the body's needs. This nutrient inhibits the effects of free radicals and increases the presence of antibodies.
Mango is one of the fruits that can help fight the symptoms of slow digestions. Due to its contribution of dietary fiber, it improves digestion and facilitates the elimination of toxins retained in the colon.
Although many people turn to synthetic laxatives when they have this problem, natural options such as mango are more recommended. This fruit does not produce unwanted side effects and can be incorporated regularly into the diet.
Also, it is a good option to give "extra" energy to the body, since its sugars are slow absorption and do not raise the blood glucose.
The polyphenols and fiber contained in the mango make this fruit an excellent remedy to combat constipation, as demonstrated by a team of researchers from the University of Texas in a study published in the journal "Molecular Nutrition and Food Research."
Specifically, scientists have found that mango is more effective than an equivalent amount of fiber powder to relieve constipation, a chronic digestive condition that affects approximately 20% of Americans.
During the study 36 adult men and women suffering from chronic constipation were randomly divided into two groups: the first group ate approximately 300 grams of mango per day (equivalent to approximately 2 cups or 1 mango), while the second group added an amount comparable fiber powder in their daily diet (1 teaspoon or 5 grams of dietary supplement of psyllium fiber).
Throughout the study (4 weeks), the food intake of the participants was controlled to ensure that there were no changes in their eating habits. The analysis revealed that both groups consumed equivalent amounts of calories, carbohydrates, fiber, proteins, and fats.
The severity of the constipation of each patient was determined at the beginning and the end of the study, and it was observed that constipation improved in both groups. However, it was found that mangoes are more effective in reducing the symptoms of constipation than fiber alone.
In fact, the consumption of mango significantly improved all the components of constipation (frequency, consistency, and shape of stool), and also increased the levels of short chain fatty acids, which indicates an improvement in the composition of the intestinal microbiome. Mango consumption also helped reduce various biomarkers of inflammation.