[Printable Version of This Page]
Baby Powder Replacements You'll Love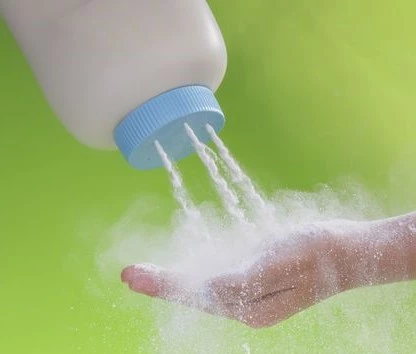 Johnson & Johnson is facing class action lawsuits for its iconic baby powder.
This only happened because baby powder is the rare infant product we never want to give up. What's in the talc, sometimes a taint of asbestos, is wrong. But it is the long-term exposure that implicates baby powder in diseases like ovarian cancer and mesothelioma.
We're addicted. Grown men sprinkle it in their sneakers and underwear. Women prize it for a million reasons from keeping thighs from chafing, to freshening hair between shampoos, to setting makeup. Moms learn to sprinkle it on their kids' feet at the beach to brush off sand more effectively. It can even calm squeaky floorboards. It's a fine dry pet shampoo, too.
You probably already know that you can use baking powder or corn starch for many of those things, but it's not completely satisfying, is it?
Because… the smell. There are people who hate baby powder smell. But for many of us, it has a strong association with that after-bath feeling of being clean.
As it turns out, "baby powder smell" is so popular, one company has blended an essential oil with the fragrance. It's called Young Living's Gentle Baby Essential Oil Blend. If you don't see it wherever you usually shop for essential oils, there's always Amazon. I checked. They have it.
If you'd like to experiment with your own blend, the probable fragrance notes are vanilla, rose, honeysuckle, jasmine, geranium, and lavender. Then again, some claim that violet essential oil is exactly the thing.
The next step is getting the smell into a nice powder.
If you are completely addicted to talc, you can carry on. It is possible to buy odor-free talcum powder that is also asbestos free. This, too, can be ordered online, but you may also find it at a well-stocked aromatherapy store or wherever candle-making and soap-making supplies are sold.
Just a word, here, though. Some of the health effects that are associated with baby powder are related to breathing in particulates. If you choose to continue with talc, sprinkle without undue exuberance and avoid breathing deeply until it settles. Also, it is not a good idea to use this in the perineal area if you are a woman because of the suspected link to ovarian cancer.
If you want to avoid talc, your best bet depends on the feel you like and the purpose you have in mind.
Baking soda—great for controlling odor. Perfect for smelly dogs and shoes, controlling rashes, and absorbing moisture. The downside is that it doesn't have the silky luxurious feel of powder, but it is safe and natural. You can get some smoothness by mixing baking soda with a softer substance like arrowroot or rice powder.
Cornstarch—this has the exquisite feel many prize for a powder that helps prevent chafing where the body rubs, such as inner thighs. Cornstarch is the main ingredient in the most popular and highly rated J&J alternatives Burt's Bees Dusting Powder. It's ideal for soothing itchy spots including bug bites, and it's a champ at absorbing moisture. It's naturally fragrance-free. If cornstarch has a downside, it is that it is so light and airy it can be messy to control in a shaker. For a deodorant, cornstarch needs a little help, blend with baking soda.
Rice Powder— an alternative many people don't think of immediately. Our grandmothers may have known it as a face powder. It has several unusual properties. For instance, it is something of a sunscreen. Not as effective as the dedicated product, but it can be mixed into a paste and used on the skin to give some sun protection. Over time, however, this practice can also whiten skin, which is admired in some parts of the world, but not where bold suntans are the ideal. An oil and rice powder paste can also lighten under-eye circles. As a face powder, it's a little coarse, so needs blending with cornstarch.
Arrowroot Powder—This is even silkier than cornstarch. You can also buy it knowing that arrowroot is never genetically modified, corn products usually are. Arrowroot deodorizes and absorbs moisture and oils well.
The final step—getting the smell and the powder together—is easy. You can't just pout the oils on top because you would create a paste. So pour several drops of the oils or your favorite perfume on a few cotton balls. Put them in the bottom of a glass container you can close tightly. Pour your powder blend on top, screw down the lid, and shake. Fill the jar only half full so there's plenty of room for shaking action. Let your new powder mix sit for a few days and you'll have the scent and feel you want, without unhealthy consequences.