[Printable Version of This Page]
MSG Myths and Facts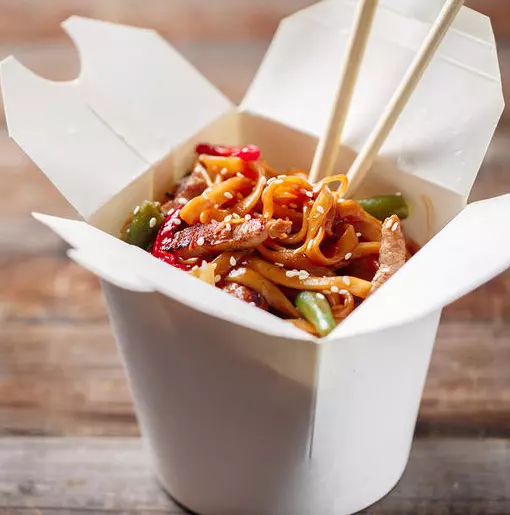 These days almost every Chinese restaurant has a notice somewhere on the menu proclaiming it does not use MSG.
Millions of people believe they are allergic to MSG, monosodium glutamate. Probably ten times as many believe it's a harmful substance that ranks right up there with Red Dye #4 and propyl paraben.
So a Chinese restaurant goer, we'll call him Charley, is happy to know he is safe at his favorite MSG-free restaurant.
But perhaps not as safe as he thought… Charley was a little hungry before going to dinner, so he grabbed a few cheesy goldfish crackers at home. At the restaurant, he started with a fried wonton app and dunked them in a dipping sauce. His wife chose the egg drop soup. When it came to the mains, Charley ordered chicken in garlic sauce, extra spicy; his wife went for the sweet and sour pork. Both douse their rice with the tableside soy sauce.
Between them, Charley and his wife have just eaten at least seven different items with MSG in them—the goldfish, the soy sauce, probably the cream cheese, the dipping sauce, the tomatoes in the sweet and sour, the chicken broth used in cooking, and the mushrooms in the Szechuan dish.
Charley leaves happily, and he doesn't get the headache he swears he always gets when he eats MSG.
MSG danger ranks right up there with the number of words Eskimos have for snow as one of the most often repeated and misinformed myths we all know. MSG goes by many names on packages, MSG, monosodium glutamate, autolyzed yeast, glutamic acid, soy protein, yeast food, gelatin, and whey protein to name a few. Several stabilizers and thickeners like carrageenan, guar gum, and pectin often have MSG. Most Americans eat it several times a week if not daily.
It's not some crazy thing invented in a test tube. It's not a preservative that creates Frankenfoods that never rot.
In fact, MSG is all the rage these days as the fifth flavor—sweet, sour, salty, bitter and umami. Umami is glutamate. Parmesan cheese is a rich source of umami and MSG. Roquefort and cheddar are sources, too. Know what else is rich in glutamate? Green tea.
Fear of MSG originated with a letter to the editor in the New England Journal of Medicine in 1968 that linked it to "Chinese Restaurant Syndrome." It was not established in a clinical trial or widely reported. It began with one person assuming an association between one ingredient in his dinner rather than a dozen other things. But the idea of Chinese Restaurant Syndrome was picked up and broadly repeated despite the lack of any human trials to back it up. Today numerous health blogs include MSG on their dangerous foods to avoid lists.
Is it dangerous? For a lot of people? For a few?
Eventually, scientists did perform research on the topic, but trial after trial failed to establish the Chinese Restaurant Syndrome as legitimate. The World Health Organization investigated the matter twice, in 1971 and 1987, and found no risk at normal consumption rates.
Nonetheless, there are hardly any foods that do not cause allergies in some people. So it's more than likely that at least some people are affected by MSG.
But it remains stubbornly unproven.
In 2016, yet one more attempt to get to the facts of the matter resulted in a meta-analysis on the topic. Yoko Obayashi and Yoichi Nagamura looked through the Medline and FTSA databases for all the human trials they could find. It's a wide net, FTSA abstracts more than 2,200 journals; Medline more than 5,600. If there was confirmed evidence, they were bound to find it. They were interested in papers written in English, of studies carried out in clinical trials on humans, that reported the incidence of headaches, and had a good statistical analysis or the data needed for one. They found ten papers that met their criteria.
There were five studies that gave MSG with food. Three of these were properly blinded (the researchers and the subjects didn't know which food had the MSG and which didn't). Two of these studies, however, used MSG in such high concentrations that some people might have detected it by taste. Even so, none of these studies found ANY proof of MSG causing headaches. Some of these studies also measured clinical data like blood pressure and pulse rate—also no proof.
In seven other studies that administered MSG given without food, researchers did find a few reports of headaches following MSG ingestion. But once again, in the studies where subjects reported headaches, it happened with doses that were much higher than anyone would use in regular cooking. The subjects could easily tell which broth had the MSG and react according to their pre-set bias.
These adverse reactions occurred when the MSG was giving in a drink or broth at a concentration of 2% or higher. At a concentration of 1.2%, its flavor is detectable.
The usual concentration in food is much lower, 0.2% to 0.8%.
The bottom line—most people who believe they are allergic to MSG probably aren't. But some few people could be. If you have a can of Accent or Sazon at home, don't sprinkle it in the soup you feed to your guests unless you know it's OK with them.
But to say MSG is bad for you is like saying shrimp are bad for you because someone somewhere is allergic to it. Lots of people are allergic to shrimp, but there's no hysteria about it. Restaurants don't post signs about it.
The use of MSG was encouraged at one time to help people cut back on salt as a seasoning. It has about one-third as much sodium as table salt and sea salt. And if sodium is an issue for you, especially if you have high blood pressure, then a little MSG could do you some good if it helps you cut back on salt.
And if you are allergic to MSG, skip it in all forms, including the parmesan and the goldfish crackers.